When I left my home in Mexico City for Chicago, one of the first things I did was go to the grocery store.
I remember going into the "ethnic aisle" and feeling lost. I didn't see anything that portrayed the Mexico I knew. There were rows of old school "Mexican" brands—sometimes US-owned—rooted in clichés of food and culture. Little health or freshness, all sombreros.
I created Nemi Snacks to share un poquito de México with you and bring you a taste of the liveliness, colors and joy of my cultura with a sombrero-free branding.
Our food traditions are rooted in familia, from mi abuela's cocina to ancestors harvesting in Aztec villages. The old ways sustained body, soul and planet, and we return to that indigenous genius in our simple, real food recipes.
That's why we took Nemi's name from "to live" in Náhuatl, the language of the Aztecs. Food is love and life, and we want ours to be nourishing to your body and fresh in every way possible.
We have the opportunity to create more than a snack.  A good business should be good to the community.  From our farmers to our social feed to your salad, we want Nemi to be sustainable and delicioso in all ways.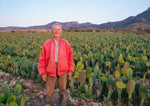 We partner with small independent Mexican farmers using sustainable farming techniques. Meet Francisco and his certified organic farm!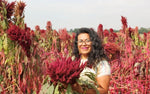 We work with womxn of color who hold positions usually reserved for men to build greater economic independence and equity.
We provide a monthly donation to a local nonprofit committed to food justice.

Let customers speak for us