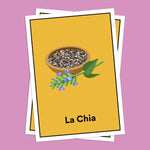 La Chia
Chia seeds were a well-known staple of the Aztec and Mayan
warrior diet. These tiny seeds pack a punch with 4g of fiber, 2g of protein, and 2g of plant-based omega 3 fatty acids per Tbsp - all of which have shown to support heart health, digestion, sustained energy levels and help keep us full from snack to meal. 
El Amaranth
Amaranth is a drought-resistant plant and gluten-free pseudo
grain, meaning that it's technically a seed with a similar nutrition profile as whole grains. Unlike most plant foods, amaranth is considered a complete protein and provides a generous dose of minerals como magnesium and iron.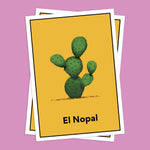 El Nopal
Nopales represent Mexican culture. These fiber-packed pads date back to AC when the Aztecs founded Mexico City after seeing an eagle on top of a nopal (¡si, nopales are on the Mexican flag!). These gorgeous cactus pads are a low-calorie food packed with gut-friendly fiber and antioxidants (¡hola, vitamina A and C!). Nopales are one of the most sustainable plants, as they require very little water to survive, they thrive in hot weather and don't need pesticides. We make nopales fun to eat!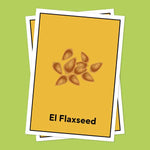 El flaxseed
Flax seeds are yet another source of plant-based omega 3s. These anti-inflammatory, healthy fats are essential for brain, corazón, and gut health. Did we mention that flax seeds are jam-packed with fiber también?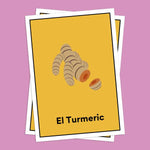 Turmeric
Turmeric is a yellow-orange root that we commonly recognize as a ground spice. The bioactive compound in turmeric called curcumin is what gives turmeric its anti-inflammatory abilities.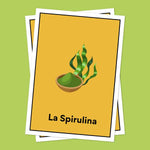 La Spirulina
Spirulina is a vegan-approved, blue-green algae that acts as a powerful antioxidant to fight free radicals (hola y adiós, stress) in the body. Spirulina is one of the most nutrient-dense superfoods on the planet. 
Pea Protein
Peas are an underrated legume and need a better seat at the table! Peas contain fiber and prebiotics, not to mention, a punch of iron andphosphorus.  Prebiotics are plant fibers that aid in gut health, good bacteria diversity, and improved immune health. Did you know that around 70% of immune cells live in our gut?!Peas have been shown to  improve overall gut health.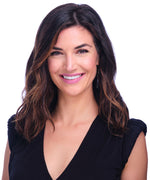 Article written and endorsed by
Danielle Cahalan
Danielle Cahalan is a clinical and private practice Registered Dietitian pursuing a Master's in Health Psychology. Danielle is Nemi Snacks' trusted nutrition expert! Based in Chicago, while she's not helping people feel their best, she's scouting for flavorful and healthy snacks. For Danielle, Nemi Snacks are the ultimate crunchy snack that provide balanced nutrition, bold flavors, and immense satisfaction that results in a happy dance no matter where you are. She loves Nemi Snacks Smoky Chipotle dipped in hummus and the nutrition in each bag! In her spare team, she loves running, doing yoga, cuddling with her dogs and walking along Lake Michigan with her familia.