Amaranth flour, puffed amaranth, pea protein powder, organic cactus powder, chia seed, ground flax seed, organic spirulina, organic turmeric, guajillo chile powder, garlic powder, onion powder, oregano, ground black pepper, citric acid, salt, flax seed oil.
Pair with chocolate
Crunch up snacks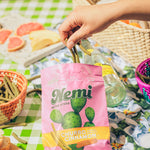 Enjoy solo
Incredible healthy snack!!!
I love them! I recommend them to everyone. Thanks for bringing back a childhood favorite snack that's on the healthier side.
Love!
We found these on a recent trip to Austin and have been ordering them ever since. Love the clean ingredients and they are delicious!!
Delicious!
Ordered more after getting some in a gift box. These things are yum. Will keep these stocked!
Churro sticks
The churro sticks are a nice crunchy snack, and not too sweet! Very good balance of flavor
Great snacks!
I loved Nemi Snacks back when I tried them in 2020 but had forgotten about them until I saw them pop up again on a podcast. I love the Churro flavor for a crunchy and slightly sweet fix! Totally crave-able!