Amaranth flour, puffed amaranth, pea protein powder, organic cactus powder, chia seed, ground flax seed, organic spirulina, organic turmeric, guajillo chile powder, garlic powder, onion powder, oregano, ground black pepper, citric acid, salt, flax seed oil.
Dip 'em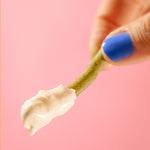 Add crunch to salads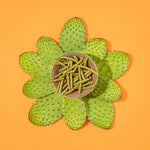 Eat them solo
Nemi is the best snack out there. Period.
Healthy crunchy spicy and satisfying, and you can carry it around.
DAMAGED BOX
WE WERE SURPRISED TO RECEIVE OUR BOX OF NOPALES DAMAGED, MY HUSBAND POINTED IT OUT TO THE CARRIER, HE JUST SHRUGGED HIS SHOULDERS, SOME BAGS WERE CRUSHED.
¡Hola Debby! Thank you for your order and support! We want to extend our sincerest apologies for the condition in which you received your recent Nemi Snacks delivery. We completely understand your frustration and disappointment, and we want to assure you that we take this matter very seriously. It is disheartening to hear that the snacks you ordered arrived damaged due to the mishandling of the carrier. We hold ourselves to a high standard of quality and packaging, and it's clear that we fell short in this instance. Please accept our apologies for any inconvenience this has caused you. We will contact you directly via email to find a solution to this issue.
give them a try
they're really good- even my picky teen likes them. they're full of protein and taste like tajin.
I've ordered several times!
Text too long to ship and get here though
¡Hola John! Thank you for your continued support! The delay was due to the unexpected high demand for our snacks, resulting in a complete sell-out of the products you ordered. While this is a testament to the popularity of our offerings, it unfortunately led to a temporary shortage and caused the delay in fulfilling your order promptly. We apologize for this delay. We sent emails to each customers letting them know about this delay. We will connect with you directly confirming receipt of the email. Gracias for your support!
The best!!!!!
Absolute favorite snack, my entire family has eaten them every night for the past 3 years